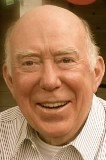 Daniel C. Shrake
April 25, 2020
Humble Teacher of Sports, Languages, Theology, Literature, and Music Passes Away at age 84
Daniel Charles Shrake happily and peacefully entered eternal life on April 25, 2020, at Little Sisters of the Poor – Saint Mary's Home in Chicago, where he spent his final years. Dan was born on January 4, 1936, in La Crosse, Wisconsin, and grew up in Winona, Minnesota.
Dan's schooling in Winona included achieving the rank of Eagle Scout and culminated in his graduation from Saint Mary's College. Profoundly inspired by the mission and method of Saint John Baptiste de La Salle, founder of the Institute of the Brothers of the Christian Schools, Dan embarked on a teaching and coaching career that spanned four decades. He felt honored by his many friendships with current and former students over the years. He was a Latin scholar.
He married Ellen Ruth Wallisch in 1965 at Saint Mark's Catholic Church in Saint Paul, Minnesota. Together they raised five children, showing them the highest religious, moral, and ethical values.
Dan loved his family, and he took special pride in his children and grandchildren. His wide variety of interests and his efforts to perfect all his pursuits have left cherished memories for all who knew him. He is best remembered for his devotion to the Catholic faith, his love of learning for learning's sake, the spirituality he derived from classical music, his own performances of the greatest piano compositions, and his appreciation of Laurel and Hardy. The products of his fine woodworking skills now grace our homes. He spent a lifetime playing and watching basketball, baseball, and other sports, always sharing his insights on the finer points of the games. He played his last game of H-O-R-S-E at the age of 81 on an outdoor court in Chicago. He won.
Dan is survived by his wife Ellen, brothers James and Mark, children Marc (Ann), Matthew (Cheryl), Peter, Kristin (John) Hansen, and Katherine, grandchildren Matthew, Patrick, Thomas, Benjamin, Greta, Dominic, and Vincent, brother-in-law William (Betty) Wallisch Jr., sister-in-law Mary Jo Fox, and dozens of nieces and nephews. He is preceded in death by his parents Leon Wesley Shrake and Mary Elizabeth (Quitney) Shrake, his brothers Francis, John, and Joseph, his sister Barbara Berzinski, and his grandson Michael Bernardine William Shrake.
Dan's family would like to recognize the extraordinary, loving care of the Little Sisters of the Poor and their entire staff. Dan felt at home here, where he received excellent medical attention, challenging physical workouts, good cheer, and one of the very few things he ever asked for, the opportunity to attend daily Mass.
In lieu of flowers, the family respectfully asks you to consider honoring Dan's memory by engaging in a series of charitable acts toward someone in need or by making a donation in Dan's memory to Little Sisters of the Poor – Saint Mary's Home, 2325 North Lakewood Avenue, Chicago, Illinois 60614 (http://www.littlesistersofthepoorchicago.org/donate-to-st-marys-home/), or to Missions of Michael (http://www.missionsofmichael.org), a non-profit that provides funds for children in need.
Private family Catholic burial rites with interment in the Calvary Cemetery in Delano, Minnesota and a memorial service will be announced after the coronavirus pandemic subsides.