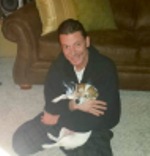 Daniel F. Freeborn
May 25, 2016
Daniel Frederick Freeborn, "Danny" age 52 of Rockford passed away on May 25, 2016 after a long battle with disease. He was born on September 10, 1963 in Minneapolis to Lorraine Benson and Richard Freeborn.
Danny loved sports. He was an avid fisherman, music enthusiast and friend. He was employed as a pressman in the Litho printing industry for many years.
Danny was preceded in death by his parents; brothers Brian Freeborn, David Freeborn; stepmother Sally Freeborn. He is survived by his wife Michelle; children Jacob Freeborn, Nicole (Chris) Rea; stepson Aaron (Jessica) Frach, stepdaughter Heather Frach (fiancé Benjamin Hartman); siblings Reney Sutcliffe, Bradley (Ida) Freeborn; nephews Ryan Freeborn, Jared Freeborn; niece Melissa Freeborn; parents-in-law Linus and Beverly Schmidt; sister-in-law Melanie Schmidt (fiancé Tony Hernandez).
Memorial Services were held 11 A.M. Saturday, June 4, 2016 at the Delano United Methodist Church.