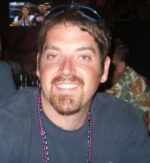 Daniel Michael Volney
April 1, 2022
Daniel Michael Volney, 40, of Watertown, MN passed away unexpectedly on April 1, 2022 in Lafayette, LA. Dan was born on November 17, 1981 in Waconia, MN.
He is survived by his son, Hunter Volney – who was his right-hand-man and whom he loved fiercely – as well as his father, Michael Volney (Watertown); mother and stepfather, Janice & Frank Carlson (Hanover); and sister and brother-in-law, Bethany and Dan LaPlant (San Antonio, TX). He was preceded in death by grandparents, Vernon (Vic) and Betty Volney and Perry Smith.
A celebration of life was held for Dan at 2:00pm on Tuesday, April 12, 2022 at the Delano American Legion. A gathering of family and friends began at 1:00pm. An informal gathering after the service to share happy moments and memories took place.
Memorials for Hunter's education preferred in lieu of flowers.
Dan lived hard but he loved even harder!