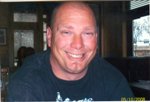 Danny A. Freund
5/27/2010
Danny A. Freund age 44 of Howard Lake passed away after a motorcycle accident on Thursday, May 27, 2010 at 6:59 a.m. He was born March 31, 1966 to Barb and David Freund in Duluth, Minnesota.
Danny was a loving and devoted father that brought smiles, laughter and love to all that he touched. A day never went by that he wasn't kind to a stranger, made a new friend, or helped those in need.
He enjoyed spending time with his family, long Harley rides and hours of poker. He was a prankster, known for his quick wit and sense of humor, "Oh Really" and "Shalom to you"
Danny was preceded in death by his beloved grandmother Bette Berg; grandfathers Byron Berg and Rudy Freund. He is survived by his fiancée Sabrina and their daughter Berkley; mother Barb and William Jensen; father David Freund; step-father Larry Hoium; siblings Kim Freund, Cavic M. and Jennifer Hannnison, Kristine and Greg DeLuca, Dustin Hoium; future parents-in-law John and Linda Maki; sister-in-law Merissa and Joel Stone; nieces and nephews Arabella, Max, Chad, Tylar, Logan; godchildren Caden, Raegen, and Rylie; special aunt Blyth Brookman; as well as many aunts, uncles, cousins and friends.
Funeral services were held on Monday, Memorial Day, May 31, at 7 p.m. at the Iten Funeral Chapel in Delano. Memorials preferred to the scholarship fund for Danny's daughter: Thrivent Financial for Lutherans, 5349 Lyndale Ave. S, Minneapolis, Minnesota 55419.