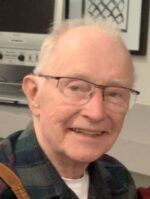 David Ellester Guntzel
February 20, 2022
David Ellester Guntzel, age 82, of Delano, MN, died Sunday, February 20, 2022 at HCMC, surrounded by many loving family members.  He was born January 23, 1940 in Minneapolis, MN to Eugene and Marjorie (O'Bleness) Guntzel.
David graduated from Hopkins High School in 1958 and attended the University of MN for two years. He went on to Mankato State University where he received his bachelor's degree in Industrial Arts Education.
David met Bea Elmblad in Mankato in 1962, and they were married in April 1964.  They were blessed with three children, Todd, Eric and Beth. David's desire was to build his family a home in the country near the school district he would teach in for 35 years.  With the assistance of friends and family, he and Bea built their home.
David loved the Lord first and his wife and children second.  He was a gentle, kind man of integrity and love.  He served faithfully as a member of Village Church for over forty years.  He loved woodworking, traveling, music, fishing and camping, grouse hunting as well as wood carving, which became a great hobby that he and Bea enjoyed together.
David was preceded in death by his son Eric, parents, and sister Mary Keillor. He is survived by his wife, Bea; son Todd (Joni) Guntzel; daughter Beth Guntzel; 6 amazing grandchildren Julie (Brandon) Dodgen, Amy Guntzel, Katie Guntzel, Logan Hoiland, Carson Hoiland, and Emilee Hoiland; and 3 adorable great grandchildren Agnes, Steadfast, and Fritz Dodgen.
A Memorial service was held at 11 a.m. on Saturday, February 26, 2022 at Village Church in Maple Plain, MN.  A gathering of family and friends was Saturday, from 10-11 a.m. at the church.