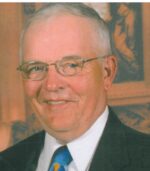 David Scherer
October 24, 2021
David Ray Scherer age 78 of Greenfield passed away peacefully in his sleep at the hunting cabin getting ready for hunting season. He was born December 24, 1942 to Walter and Lillian (Petersen) Scherer in Worthington, Minnesota.
David was all about gardening, guns, hunting, fishing and good whiskey. David grew up in Long Prairie, Minnesota and graduated from Long Prairie High School in 1960. He joined the United States Marine Corps and served from 1960 to 1964 being Honorably Discharged in May of 1964 at the rank of Corporal. After the service, David made his career at Burroughs and stayed with the company for his entire career. Burroughs eventually became UNISYS where he retired in 1999.
David was preceded in death by his wife of 54 years Brenda in December of 2017. He is survived by his daughters Christine Scherer, Melissa (William) Winterhalter; grandchildren James, Haley (Matt) Conley; sister Gail (Roy) Holand; special friend Char Dalbec; and many friends and family.
Memorial services took place at 6 p.m. on Saturday, October 30, 2021 at the Iten Funeral Chapel in Delano. Gathering of family and friends took place from 4 to 6 p.m. prior to the services. Inurnment will be in the Minnesota Veterans Cemetery. Semper Fidelis