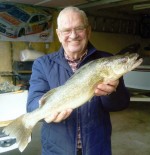 David Yaeger
February 12, 2020
David Walter Yaeger, "Dave" age 83 of Delano, Minnesota died at Good Samaritan Center of Waconia, MN on February 12th, 2020. David was born January 27th, 1937 in St. Cloud Hospital, St. Cloud, MN to Bernard and Cyrilla Yaeger. He lived in Delano and Rockford his whole life with two years in Germany, serving in the Army.
On September 6th, 1958 he married Judith Ann Bigalke of Rockford, MN at St. Peter and Paul Church in Loretto, MN. God blessed them with four children.
David is survived by his wife Judy and his children, Laurie (Scott) Cunningham , Becky (Tony) Pehrson, Jenny (Tyler) Christiansen and Jim (Katie) Yaeger . David will also be fondly remembered by his seven grandchildren, Cody (Andrea), Jesse, Leah, John, Sarah (Grant), Rachel and Lucy, by his sisters, Jean Motzko and Kay Lundstrom and brother Mike (Julie) Yaeger. David was preceded in death by his brother Loren (Fran) Yaeger.
David W. Yaeger always said the "W" stood for work! HIs first job was a paper route so he could ride the one family bicycle and he still enjoyed riding bike through this Fall. He went on to have 26 jobs in total! He retired at the age of 58 and continued enjoying another 25 years living life to the fullest. He and Judy loved riding motorcycle. David loved ushering at church, volunteering, fishing, cutting wood with Jim and being with family and friends. He couldn't sit still. He was always looking for something to fix, polish, or paint. All through his life and all through his journey with cancer, he always, always had his amazing smile on his face! David was a very patient, peaceful, loving man especially because of his relationship with Jesus.
Funeral services were held on Saturday, February 15, 2020 at 11 a.m. at Buffalo Covenant Church, 1601 Highway 25 north, Buffalo, Minnesota. Visitation was held from 4 to 7 p.m. on Friday at the Iten Funeral Home in Delano, Minnesota. Visitation continued Saturday from 10 to 11 a.m. at the church prior to services. Interment was in the Delano Public Cemetery.