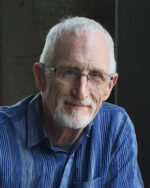 Dean M. Stewart
August 2nd, 2022
Dean "Bub" McAllister Stewart, formerly of Moscow, Idaho, died Tuesday, August 2, in Robbinsdale, Minnesota, of complications from Alzheimer's disease.
He is survived by his wife Gretchen, now of Delano, MN; his brother and sister-in-law John "Bick" and Barb, of Smyrna, GA; his sister-in-law Pauline, of Marietta, GA; his three children and their spouses: Benjamin and Elizabeth, of Duluth, MN; Jake and Wendy, of Delano, MN; Luke and Georgy, of San Francisco, CA; and his grandchildren: Forrest, of Madison, WI; Justin, of Decorah, IA; and Jackson, Bjorn, and Theo, of Delano. Dean was preceded in death by his brother Robert "Ernie", of Marietta, GA.
Born in North Carolina, he and his brothers were raised by his mother Nancy and father Ivan in a close-knit neighborhood of Cincinnati, Ohio, where he played football and basketball at Deer Park High School. He looked forward to his childhood summers each year, which he spent among his large and loving extended family in Mount Pleasant, NC.
He loved music from an early age, becoming an outstanding trumpet player, which brought him and others so much happiness throughout his life. He also retained a lifelong passion for his alma mater, the Ohio State University, where he played trumpet in the Ohio State Marching band.
He met his wife Gretchen during the summer after their senior year of high school, while they both performed on the European concert tour of the School Band of America. In their marriage of 53 years, they shared a passion for their faith, for music, for poetry read aloud, for social justice, and for all the diverse wonders of creation.
A pastor of the Evangelical Lutheran Church in America, Dean graduated from the Lutheran School of Theology at Chicago in 1975, and served congregations in Tiro, Ohio; Xenia, Ohio; Elmhurst, Illinois; and Moscow, Idaho. Dean especially loved introducing newer theological scholarship to congregations, enlivening and diversifying participation in worship, and the poetic wordplay of preaching. After living in Moscow, Idaho for more than two decades, Dean and Gretchen moved this summer to Minnesota.
A beloved husband, father, brother, grandparent, friend, and pastor, Dean will be deeply missed by all whose life he enriched.
A funeral was held on Saturday, August 6, at 10am, at Light of Christ Lutheran Church in Delano, MN. A gathering of family and friends began at 9:30am at the church. Burial followed the funeral in the Delano Public Cemetery.