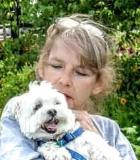 Debra C. Anderson
May 23, 2018
Debra C. Anderson, age 62 of Mound, passed away after complications from cancer treatment on Wednesday, May 23, 2018. She was born on October 12, 1955 in Minnetonka to Willis and Lorraine (Harris) Anderson.
Debra loved her animals. She knew the names of all the dogs in the neighborhood. She was a detail person. She had an artistic touch and could create anything. She loved to entertain her family and friends.
Debra was preceded in death by her husband Kirk, son Jason and mother Lorraine. She is survived by her father Willis; sisters Susan Hayden, Linda (Terry) Tobeck, Kathy Meyers and Sandy Anderson; special friend Michael Ferrell and many nieces, nephews, cousins and friends.
A Memorial Service was held at 12 noon on Saturday, June 2, 2018 at the Delano United Methodist Church. A Gathering of family and friends was from 11-12 PM prior to the service on Saturday.