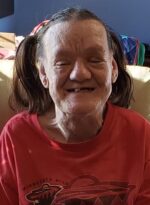 Debra Ann Seth
November 15, 2021
Debra Ann Seth, age 55, of Buffalo passed away on Monday, November 15, 2021. She was a long time resident of Buffalo who worked over 31 years at Functional Industries in Buffalo. Due to health issues, Debra moved to Savanna Prairie Assisted Living in Kimball in September 2020.
Debra enjoyed bowling, listening to Country music, traveling, and shopping. She loved eating at Taco Bell, A & W, Culvers, and McDonalds. Her greatest passion was watching all sports, especially the Vikings, MN Twins, and the MN Wild.
Debra was preceded in death by her mother Nancy Seth, brother Raymond Seth, and maternal grandparents George and Mabel Dahlin.
A private interment took place on Thursday, November 18, 2021 at St. Marys Cemetery in Waverly.