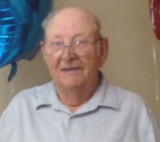 Dennis G. Graunke
October 19, 2017
Dennis G. Graunke, age 82 of Winsted, formerly of Delano, Minnesota, passed away on Thursday, October 19, 2017 at the St. Mary Care Center in Winsted. He was born on September 4, 1935 to George and Evelyn (Will) Graunke in Franklin Township, Minnesota.
Dennis was a loving father, grandfather and great grandfather. He was a longtime employee of Advance Machine. He liked to fish, play cards, spend time around the campfire, play bingo and spend time with family.
Dennis was preceded in death by his parents George and Evelyn; siblings Marlys Winsemann, Glen, Dale, Barb and Judy Graunke. He is survived by his son Allen; stepsons Brian (Sheila) Nelson and Gary Nelson; grandchildren Andrew (Marissa) Graunke, Cole Graunke, Blake Graunke, Julie Nelson, Jennifer Nelson, Troy Nelson and Brenda Nelson; great grandchildren Lily, Sophie and Audrey; siblings Richard (Fran) Graunke, Pat (Larry) Snodgrass, Lois Svoboda, Ronald (Audrey) Graunke, Frank Graunke, Leroy (Blythe) Graunke, Roger (Ginger) Graunke, Carol (Duane) Poliwoda; special niece Debbie Schmidt as well as many nieces, nephews, cousins and friends.
Memorial services were held at 11 a.m. on Saturday, October 28, 2017 at the Montrose Community Center. Gathering of family and friends was on Saturday, from 10-11 a.m. prior to the services at the Montrose Community Center. Inurnment was in the Watertown Public Cemetery.
Arrangements by the Iten Funeral Home in Delano.