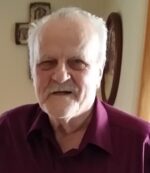 Dennis L. Erbes
March 25, 2022
Dennis L. Erbes, the son of Carl George Erbes & Florence Lydia Nicola, was born on September 19, 1941 northeast of Ocheydan, IA in rural Osceola County. He attended Kindergarten at Lonestar Rural County School in rural Osceola County, IA. He attended 1st & 8th grade at Zion Lutheran Church school and attended the other elementary grades & high school in Ocheydan, IA. He was a good worker and helped his father and other farmers on their farms throughout high school. He played football his Senior year and graduated from Ocheydan High School in 1960.
Dennis married Yvonne Karen Johnson on August 3, 1963 at Bethany Lutheran Church in rural Bergen, MN. In May 1967 Dennis & Karen adopted their son Michael. In December 1967 their son James was born. They lived in various places over the years including Worthington, MN; Round Lake, MN; rural Heron Lake, MN; Terrill, IA; Shelton, NE; & Montrose, MN.
Dennis worked various jobs over the years including Campbell Soup Company, Ag-Chem, Chief Automotive, Toro Company, & NuAire, Inc. He especially enjoyed his job at NuAire, Inc.
In 1976 Dennis & Karen became members of the Seventh-Day Adventist Church. Dennis remained a member for the rest of his life.
Dennis & family enjoyed visiting family & relatives. Many happy times were spent visiting with them over the years. Over the years Dennis & Karen traveled to California, Illinois, Wisconsin, South Dakota, Colorado, Utah, Arizona, Canada & other places. They especially loved to visit their children & grandchildren in Nebraska.
Dennis passed away on March 25, 2022 at the age of 80. He is survived by: wife Karen Erbes; children: Michael (Linda) Erbes and James Erbes; grandchildren: Darin (Kira) Erbes and Tara (Jordan) Fishler; four great-grandchildren: Peyton, Braxton, Eli, and Brynlee; sisters: Joyce Dittman and Darlene Froderman; and many nephews & nieces. He was preceded in death by his parents: Carl George Erbes & Florence Erbes; niece Shelly Dittman; brothers-in law Lowell Johnson, Robert Weier, Harold Dittman & Eldred Froderman.
Funeral Service was held at 11:00 AM on Sunday, April 3, 2022 at Maple Plain Seventh-Day Adventist Church in Maple Plain, MN with Pastor Jared Little officiating. Interment was Monday in Lone Tree Cemetery in Sioux Rapids, IA.