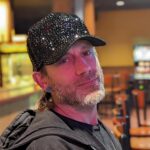 Dennis M. Kamp
February 4th, 2023
Kamp
Dennis Michael, age 46 of Minneapolis, passed away on February 4th, 2023. He was born on December 22nd, 1976 to Gary and Christine (MacKay) Kamp in St. Louis Park, Minnesota.
Dennis grew up and went to school in Coon Rapids, MN, where he excelled academically, athletically and artistically. He played hockey and varsity soccer. Dennis participated from grade school through high school in programs for academic achievement, leadership and service to others. His 'Odyssey of the Mind(OM)' team participated at the national level. Besides OM, he was president of the Key Club and Junior National Honor Society.
Dennis attended the University of Minnesota and earned his BA in biology and genetics. Dennis later continued his education at Aveda Institute and became a hair stylist. Dennis enjoyed the fellowship he found while working at Spring Street Tavern and spoke fondly of his Spring Street 'family'. Dennis was known for his great heartfelt hugs for fellow workers, friends and patrons alike.
Dennis enjoyed watching niece Evie and nephews Oscar and MacKay as they grew and developed in their sports and other activities. Dennis loved all pets/animals, but had a special place in his heart for his feline 'family' over the years: Rudy, Dorian and Lola.
Music was an enormous part of Dennis's life. His greatest passion was being a self taught lead guitarist, at which he excelled at composing and performing in the bands '2 Wurds' and 'The Hard Luck'. They played frequently at venues such as Gluek's, Bunkers, Fineline, etc. Dennis had a fine collection of guitars that he enjoyed customizing into incredible personal instruments. Dennis has been described as being an epically gifted player.
Dennis is preceded in death by his grandparents Gudrun and Donald MacKay, and George and Beverly Kamp.
Dennis is survived by father Gary (Theresa Schaffer) Kamp, Mother Christine Kamp; sister Jill (Christopher) Hoglund.
A Celebration of Life gathering was held Sunday, February 26th from 2-4pm at Surly Brewing Co., 520 Malcolm Ave SE, Minneapolis. Following, guests were welcomed to move the celebration to, and pay tribute to Dennis at his second home, the Spring Street Tavern, 355 Monroe Street NE, Minneapolis. Dennis would be proud if the celebration resulted in heartfelt hugs becoming more commonplace.
In lieu of flowers, memorials preferred to any animal shelter in Dennis' name.