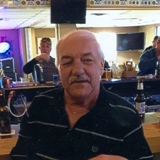 Donald D. David
August 4, 2017
Donald D. David, age 67 of Delano, formerly of Mound, passed away unexpectedly on Friday, August 4, 2017 at the Ridgeview Medical Center in Waconia. He was born on September 26, 1949 in Wayzata, Minnesota to Ronald and Norma (Arneson) David.
Donald loved working on his hot rods and showing them in car shows. He also enjoyed boating and camping.
Donald was preceded in death by his parents and brother Mike David. He is survived by his daughters Lori (Dale) Skogman and Holly (Jeff) Poliwoda; significant other Louise Kiscaden; 8 grandchildren; 2 great grandchildren; sister Sue David; special friends Patty and Steve Garrison.
A Gathering of family and friends was held on Monday, August 14, 2017 from 5-7 p.m. at the Iten Funeral Home in Delano. A Celebration of Life was held on Saturday, August 26, 2017 from 1-4 p.m. at the Delano American Legion.