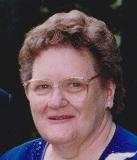 Donna M. Salonek
June 18, 2016
Donna M. Salonek, age 78 of Montrose passed away on June 18, 2016. She was born on April 18, 1938 in New Richmond, Wisconsin to Bert and Pearl (Germain) Barnes. She was united in marriage to Richard S. Salonek at Holy Name in Minneapolis on February 12, 1966.
Donna was preceded in death by an infant son Jacob, son Tim, and brother Bob Barnes. She is survived by her husband of 50 years Richard "Dick"; children Lisa (Debbie) Salonek, Bob (Beth) Salonek, Richard (Christie) Salonek; 6 grandchildren Cooper, Perrin, Joe, Jacob, Max, Ben; brother Gary (Barb) Barnes.
Mass of Christian Burial was held 11 a.m., Thursday, June 23, 2016 at St. Mary of Czestochowa Catholic Church, rural Delano. Visitation was 9-11 a.m. Thursday prior to the Mass at the church. Interment was in the church cemetery.