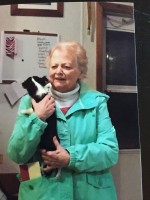 Dorianna "Dori" Haller
June 3, 2018
Dorianna J. Haller, "Dori" age 81 of Waverly passed away on Sunday, June 3, 2018. She was born January 23, 1937 to Jack and Helen Edeskuty in Minneapolis, Minnesota.
Dori was a longtime resident of Waverly and member of St. Mary Catholic Church where she taught religious education for over 40 years. Dori enjoyed doing puzzles, coloring and anything art related. She loved to talk about her family and spend time with them.
Dori was preceded in death by her husband Greg; son Michael Olk; grandson Elliot Olk; her parents Jack and Helen Edeskuty; sister Nonie Parks; brother Joseph Edeskuty; brothers-in-law Robert Weiberg and Goff Parks.
She is survived by her children Steven (Wanda) Olk, Robert Olk, John (Gwenn) Haller, Michele (Michael) Stevens; many grandchildren and great grandchildren; her loving friend Laura Hoiland and family; and her dog Olaf.
Mass of Christian Burial was held on Monday, June 11, 2018 at 11 a.m. at the Church of St. Mary in Waverly, Minnesota. Visitation took place in the church parish center from 9 to 10:45 a.m. on Monday prior to the Mass. Interment was in the church cemetery.