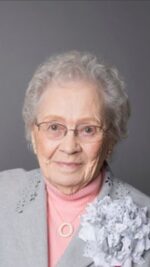 Doris A. Stuckmayer
November 5th, 2022
Doris Arlene Stuckmayer, age 96 of Maple Plain, formerly of Clarissa, Minnesota, passed November 5, 2022, at her residence at Haven Homes Senior Health and Living. Doris was born to Theodore and Martha (Hanson) Dahlman on May 14, 1926, the second of five children. She graduated from Clarissa High School in 1943. Doris married Wayne Howard Stuckmayer of Maple Plain on February 28, 1945, while Wayne was serving in WWII. Doris and Wayne had met in Clarissa as Wayne's extended family lived nearby. Together they raised four children; and celebrated 56 years of marriage until Wayne's death in 2001.
Doris enjoyed tending to her plants, baking, and sewing; especially making quilts. She was involved and volunteered in various ministries; Churches (Choir, Mercy Ships, Samaritan's Purse, Widow's Group), Delano Senior Singers, American Legion Auxilary, Love, Inc Heartland, and the Women's Veteran Center.
She was preceded in death by her husband, Wayne, parents Theodore and Martha; parents-in-law John and Jennie Stuckmayer; siblings and in-laws Evelyn (Walter) Kotula, Marian (James) Hessler, Lawrence Dahlman, Sherwood (Donna) Stuckmayer, Jack Stuckmayer, and most recently her grandson Brian Stuckmayer.
Doris is survived by her children Richard (Mary), Daniel (Joyce), Alice Dorn, Ted (Becky); grandchildren Angela (Rick), Maggie (Ryan), Christopher (Melisa), Patrick, Sarah, Megan (James), Jonathan (Korma), Josiah, Julia; great grandchildren Kaitlynd, Eleanore, Daniel, Skyler, Paige, Wesley, Tyler, Carly, Emma, Samuel, Wyatt, Elisa, Tristin, Gabriel, Ezra, Rylee, Ava, Adalyn, Ari, and another on the way; great-great-grandson Waylon; sister Sandra (Dean) Meiner; sister-in-law Jean Haskel; as well as many beloved nieces and nephews.
Funeral Services were held at 11 AM on Monday, November 14, 2022 with visitation from 10-11 AM at Maple Plain Community Church (1815 Budd Ave). The service was live streamed and available to view at https://youtu.be/y4p4_cqjJrw . A luncheon followed the service. Doris will be interred next to her husband Wayne in the MN State Veterans Cemetery – Camp Ripley at a later date.