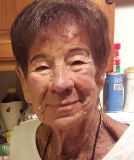 Doris M. Gaffer
May 21, 2018
Doris May Gaffer, age 87 of Rockford, passed away Monday, May 21, 2018 at the Park View Care Center in Buffalo. She was born on August 13, 1930 in Stewart, MN to Conrad and Laura (Rassmussen) Karg.
Doris worked over 40 years as a secretary, many of them at Reuter, Inc. where she retired. Doris was a volunteer at Crossroads Animal Shelter. She loved spending time with her family, shopping, food/cooking, gardening/flowers, reading, and bus trips to the Casino.
Doris was preceded in death by her husband Miles "Mike"; parents Conrad and Laura; 2 brothers Donald Karg and Robert Karg. She is survived by her children Ricky (Lori) Koester, Lori (David) Lipinski and Lisa Heiskary; 7 grandchildren Justin Heiskary, Shawn (Anna) Koester, Angela Heiskary, Kellie (Matt) Dubay, Jenna (Brandon) Barhorst, Aaron Lipinski and Cort Carlson; 4 great grandchildren Jayden, Bentley, Brycen, Connor; brothers James Karg and LeRoy (Darlene) Karg; special friend Annette and her dog Shelly; many nieces, nephews other relatives and friends.
A Memorial Service was held at 1 PM on Friday, May 25, 2018 with a gathering of family and friends from 11 AM – 1PM prior to the service at the Iten Funeral Chapel in Delano. In lieu of flowers, memorials preferred.