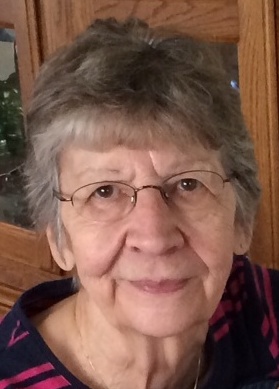 Doris Outly age 73 of Delano passed away on Monday, July 28, 2014 at the Ridgeview Medical Center in Waconia. She was born September 4, 1940 to Joseph and Hildegard (Remer) Hausladen on the family farm in Waverly, Minnesota.
Doris was preceded in death by her parents, infant son Joe, brother Marcel Hausladen and sisters Mildred Hausladen, Bonaventure Hausladen and Betty Kittock. She is survived by her husband James, children Bill Outly, Theresa (Aaron) Vick, Rebecca (Charley) Shaffner and Ben Outly; 9 grandchildren; 9 great grandchildren; brothers Kenneth (Beatrice), Clarence, Robert (Mary Ann), Emmett (Jane), Arnold (Linda), Conrad (Sue) and Larry Hausladen; sisters Jean (Glen) Yager, Ann (John) Dalheimer and Susan (Duayne) Heimerl and many other relatives and friends.
Doris dearly loved to read, to play cards and to fill her home with family – and she has an amazing family. She taught her children to sing while they did the dishes, to use humor in the face of fear, and that honor exists in simple work.
Doris enjoyed snowmobiling and bowling in her youth, sporting a high score of 296 at her peak. She joined Curves in recent years, and spoke often of the friendships formed there and at the Senior Center in Delano.
Her departure from this world was sudden but Doris had a mighty faith. An active member of St. Peter's parish, she always knew where her true home was. She may have taken issue with the timing of her journey but she always knew her destination. It was her life's work to live that faith and teach it to her children – always with a smile.
Mass of Christian Burial was held on Friday, August 1, 2014 at 11 a.m. at St. Peter Catholic Church, Delano. Visitation was Thursday, July 31, 2014 from 4-8 p.m. with a 7 p.m. Rosary Service at Martha's Hall of St. Peter Catholic Church. Visitation continued Friday 10-11 AM prior to the Mass at Martha's Hall of St. Peter Catholic Church. Interment was in Calvary Cemetery, Delano.