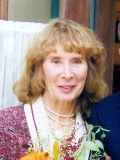 Dorothy A. Ingram (Waytashek)
August 17, 2017
Dorothy A. Ingram, age 84 of Delano, went to be with her Lord and Savior on August 17, 2017. She was born on January 22, 1933 in Morrison County, Minnesota to Joseph and Cecelia (Koeneck) Waytashek.
Dorothy, at age 18, left her rural home in Morrison County to attend nursing school in Washington DC   Working her way through nursing school she become an RN . She dedicated herself to work and serve sick and injured patients for over 50 years. Her strong work ethic, knowledge and professionalism allowed her to serve as Head Nurse in John Hopkins Hospital's Emergency Room, one of the busiest and toughest emergency Rooms in our Nation's Capital.
After numerus years in this critical position she took a break to become a private duty nurse. She worked around the world, including Nicaragua, where she managed to narrowly escape before the rebels who over throw the government captured her. In her final years of work she returned to her role as a hospital RN.
In 1999 after retiring, Dorothy met the neighbor of her girlfriend, Robert Ingram and it was true love at first sight. Dorothy married Robert L. Ingram, Sr. on June 4, 1999. The couple adored each other during their life together in Bethesda, Maryland. Dorothy was devastated by Robert's death in 2003. She moved back to Minnesota in 2004 to be close to her relatives.
Dorothy had a variety of hobbies that included hiking in the Mountains and sewing. She was gifted artist, who oil painted, as well as composing music and playing the piano.
Dorothy was preceded in death by her husband Robert; parents; sisters Lorraine Rebling and Rosemary McAlvain. She is survived by close cousins who she was raised with Milton and Irvin Voltin; her half-sisters Cecelia Houg and Angie Olson; her sister Janaria Johnson; brother Joe Waytashek and many cousins, nieces and nephews
Mass of Christian Burial was held at 2 PM on Saturday, August 26, 2017 at St. Peter Catholic Church in Delano. Visitation took place on Saturday, from 1-2 PM prior to the Mass in Martha's Hall of St. Peter Church. Interment will be at 11 AM on Tuesday, August 29, 2017 in Dulaney Valley Memorial Gardens in Baltimore, Maryland.