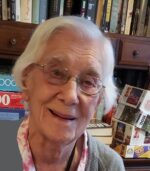 Dorothy B. Topel
May 15, 2021
Dorothy B. Topel (Neisen), age 101 of Delano passed away on Saturday, May 15, 2021 at The Gardens of Winsted (formerly St. Mary's). She was born on March 4, 1920 in Delano to Jacob and Catherine (Rudolph) Neisen.
Dorothy was a loving mother, grandmother and great grandmother. She worked on the farm with Bill, milking cows while also looking out for the children. After retiring from the farm, Dorothy got involved with volunteering in a variety of Delano community events. She started volunteering at the Delano Senior Center shortly after it opened in 1982. She received the Outstanding Senior Citizen in 1994 after volunteering 565 hours in a year. She also grew African violets and sold them at the Senior Center. Dorothy also enjoyed dancing, fishing, and playing cards.
Dorothy was preceded by her husband William "Bill"; parents Jacob and Catherine Neisen; brother Robert Neisen; sisters Elizabeth (Leo) Topel and Marilyn (Alfred) Westlin; son-in-law Raymond Hertell; daughter-in-law Susan Topel. She is survived by her children Dianne Hertell, Kathleen (Henry) Chesley, Frederick Topel, and Linda Topel (Gary); 7 grandchildren Kyle Hertell (Jordana), Nicole (fiance Wade), Hertell, Patricia (Danny) Navratil, Dawn Chesley, Jeremy (Dawn) Topel, Amy Topel (Karen), and Valerie (Reid) Becker; 6 great grandchildren Paige Hertell, Tyler Hertell, Jacob Thiner, Benjamin Rabe, Ilijah Topel and Isabel Becker; brother John Neisen; sister-in-law Darlene Neisen.
A Memorial Funeral Service took place at 11 AM on Saturday, May 22, 2021 at the Parish of St. Maximilian Kolbe, St. Peter's Campus, in Delano. A Gathering of family and friends was on Saturday, from 9:30 – 10:30 AM at the Iten Funeral Home in Delano. Inurnment was in the Calvary Cemetery in Delano. In lieu of flowers, memorials preferred.
This service was livestreamed on the Iten Funeral Home Youtube page, through the link provided below: