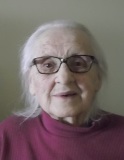 Edith A. Howe
November 7, 2017
Edith A. Howe age 85 of Waverly died on Tuesday, November 7, 2017 at the Good Samaritan Society of Howard Lake. She was born on October 20, 1932 in Woodland Township, Wright County to Charles and Sophia (Danek) Brabec.
Edith was united in marriage to Paul Howe in 1950. She was a homemaker and helped with the farm work. Edith enjoyed reading, gardening, spending time with the grandchildren and playing cards. She loved her dogs.
Edith was preceded in death by her husband of almost 56 years Paul, great grandson Timothy Warden, parents and 4 siblings. She is survived by her children Barb Spike, Glenn Howe, Duane Howe; grandchildren Lucinda Staye, Justin Spike, Cassie Spike, Elicia Spike; great grandchildren Melody Carlson, Mason Staye, Emily Staye, Kaylin Carlson, Devon Heaton, Logan Heaton; sister Lorraine Pearson.
A memorial service was held at 2 pm on Tuesday, November 14, 2017 at the Iten Funeral Chapel in Delano. A gathering of family and friends was held from 1-2 pm Tuesday at the funeral home prior to services.