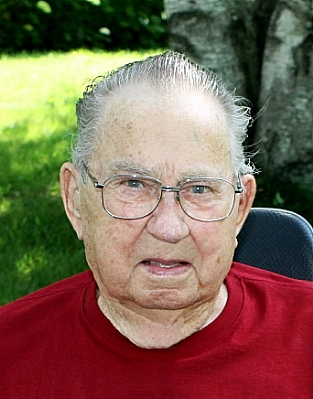 Edward Malecek
12/31/2012
Edward Vernon Malecek, age 90 of Delano passed away peacefully at home on Monday, December 31, 2012. He was born December 17, 1922 to Frank and Milada (Matejka) Malecek in Lake Lillian Township, Minnesota.
Ed served in the United States Navy during World War II, being discharged on May 16, 1946. He was employed as a heavy truck mechanic during his working life. He was united in marriage on April 28, 1945 to Louise M. Bailey at St. Thomas More Catholic Church in Lake Lillian, Minnesota. Ed's passions and hobbies in life were his family. Spending time with them and enjoying each other's company was his joy in life.
Ed was preceded in death by his parents, son-in-law Rod Rademacher, grandson Christopher Smith; 3 brothers and 1 sister. He is survived by his wife of 67 years, Louise; children Jackie (Larry) Smith, Butch (Martha) Malecek, Patricia Rademacher, Ted (Margie) Malecek, Mary (Alan) Spears, Jean (Don) Hayes, Dave (friend Laureen) Malecek, Terry (Daryl) Foss, Mike Malecek, Steve (Hisae) Malecek, Jon (Patty) Malecek; 21 grandchildren: Andrew (fiancee Sandy & girls Alyssa & Abby) Smith, Matthew (Erica) Smith, Jason (Jessica) Smith, LuVern (Kathryn) Smith, Edward Malecek, Kari (Jason) Petersen, Randall Malecek, Katie Malecek, Garet Malecek, Troy Spears, Erin Spears, Megan (Beau) Blackford, Alycia Hayes, Joni (Sean) Danzl, John (Crystal) Foss, Michael Malecek, Adam Malecek, Nicolas Malecek, Robert Malecek, Allison Malecek, Derek Malecek ; 17 great grandchildren: Avery Smith, Hayden, Howie & Hudson Smith, Lily Smith, Anastasia & Gideon Smith, Ashley & Nicolas Petersen, Dylan Cox, Skylar & Noah Spears, Nathaniel Ewing, Jaylynn & Chloe Danzl, Hailey & William Foss; sisters Josephine Vinar and Lucy Herman.
Mass of Christian Burial was held on Saturday, January 5, 2013 at 11 a.m. at St. Peter Catholic Church in Delano, Minnesota. Private family inurnment will be held at Ft. Snelling National Cemetery in Minneapolis, Minnesota.