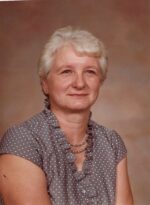 Elizabeth "Betty" M. (Swartzer) Bury
January 7, 2022
Elizabeth (Betty) Mary (Swartzer) Bury, age 91 of Watertown, Minnesota, passed away on Friday, January 7th, 2022 at New Perspectives in Waconia, Minnesota.
She was born March 25th, 1930 to George Sr. and Susan (Gallus) Swartzer in Montrose, Minnesota. She graduated from Delano High School in 1949.
Betty married Louis (Louie) Bury on May 9th, 1951. They were blessed with five children, 18 grandchildren, and 19 great-grandchildren.
Betty had several jobs outside the home over the years, but a housewife was her fulltime job. Together they loved to fish. They spent many winter nights in their fish house on Lake Mille Lacs. In the summer they spent many hours in their boat on area lakes. If there were fish in the lake, they would find them. In the fall, everyone in Watertown knew them for their apple pies. She loved to spend time with the grandchildren and great grandchildren. She loved to go to their soccer or baseball games and would reminisce long after the game was over.
Betty was preceded in death by her parents, George Sr. and Susan Swartzer; husband of 62 years Louis Bury; grandson Andrew Bury; brothers Walter, Jack, Joseph Sr., George Jr., Marvin, and Donald Swartzer; sisters Lorraine Lynch, Luverne Blackketter, and Gladys Swartzer; mother-in-law and father-in-law Louis Sr. and Kathryn Bury; brothers-in-law Emmett Lynch Sr., Thomas Kuka Sr., Leo Blackketter, Ed Windsperger, Dennis Bury, Ambrose Bury, Leslie Bury, Joseph Snicker, and Lester Ortloff; sisters-in-law Mary Helen Swartzer, Laurie Swartzer, Marguerite Swartzer, Sandy Swartzer, Alice Snicker, Deloris Ortloff, Florabell Bury, and Donna Bury.
Betty is survived by her sons Larry (Ruth) Bury, Gary (Brenda) Bury, Gregory (Brenda) Bury; daughters Darlene (Larry) Mader, Deborah (Jeff) Allison; grandchildren Jason Mader, Sarah Mader, Keith (Lisa) Bury, Jill Swanson, Kristy (Ryan) Ebert, Christopher (Lauren) Bury, Tanya Bury, Elissa (Darrin) Stoeckman, Mitchell (Jenny) Bury, Tess (Duane) Smith, Branden (Lindsey) Bury, Anthony (Niki) Bury, Amber Bury, Natalie (John) Kulmman, Mariah Bury, Amelia Bury, Isaac Bury, and Aaron Bury; great-grandchildren Maria Brown, Logan Bury, Jaxson Duckworth, Lydia Swanson, Kalli Swanson, Brayden Bury, Rebekah Stoeckman, Lily Bury, Kaleb Bury, Jacob Kulmann, Cheyenne Kulmann, Michael Neumann, Jayden Bury, Joseph Bury, Evan Smith, Jace Bury, Bella Bury, Brynley Bury, and George Bury.
Betty is further survived by her sisters Marian Kuka and Susan Windsperger; brothers and sisters-in-law Robert (Mary) Swartzer, Gene Swartzer, Ervin (Renee) Swartzer, Anthony Swartzer, Peter (Alice) Swartzer, Irene Swartzer, Dorothy Swartzer, and Rosemary Swartzer; as well as many nieces, nephews, cousins, and friends.
Mass of Christian Burial was held on Friday, January 14, 2022 at 11 AM at St. Mary of Czestochowa Catholic Church in rural Delano. Visitation was held from 9:30-11 AM prior to the Mass, all at the church on Friday. Interment was in the church cemetery.
The Mass was live-streamed through the link provided below: