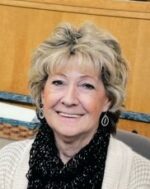 Elizabeth Jane "Betty" Schliinz
March 8, 2021
Elizabeth Jane Schliinz, "Betty" age 74 of Delano, formerly of St. Michael, passed away unexpectedly on Monday, March 8, 2021. She was born October 5, 1946 to Raymond and Elenora (Niehoff) Wachman in Melrose, Minnesota.
Betty was a loving wife, mom, grandma, great grandma, sister and friend. She dedicated her life to her family and will be greatly missed, but not forgotten. She made her career in banking, but her life revolved around her family. She loved to travel; sand between her toes and sun on her face. She loved to spend time with family and friends. Attending every family sporting events possible, especially baseball and softball. Dancing, laughing and spending time with loved ones was her joy. "Pray, pray, pray" was a common saying she used. Her faith was important to her.
Betty was preceded in death by her parents Raymond and Elenora Wachman; brothers Walter (Kathy) Wachman and Ervin Wachman; sister Arlene Doboszenski; brother-in-law Donnie Arens.
She is survived by her husband Duane; children Troy (Michelle)Schliinz, Paula (Brad) Grinnell, Brandon (Angela) Schliinz; 10 grandchildren: Tayelor Schliinz, Maddy Schliinz, Blake Schliinz, Logan Grinnell, Mason Grinnell, Brandon (Emily) Grinnell, Ryan (Jess) Grinnell, Morgan (Nick) Uhl, Blake Martin and Reese Schliinz; 5 great grandchildren: Tessa, Aila, Brooklynn, Jackson and Hunter; siblings Elaine Dorn; Millie Arens; brother in law Jim Doboszenski; sister-in-law Darlene Wachman.
Mass of Christian Burial took place at 11 AM on Saturday, March 13, 2021 at Ss. Peter & Paul Catholic Church in Loretto, Minnesota. Visitation was held on Friday from 4-8PM with a 3:30 PM Rosary Service at the Iten Funeral Home in Delano, Minnesota. Interment was in the church cemetery.
The Mass was live streamed on the Iten Funeral Home YouTube page, through the link provided below:

Note: Live-streaming*
In order to mobile live-stream the Mass, Youtube requires we maintain 1,000+ subscribers. In order to ensure we can continue to provide mobile live-streaming services to families, we ask that you please subscribe to our Iten Funeral Home Youtube page.
https://www.youtube.com/channel/UCcYxByHG3qDWGb78BJkdJBg