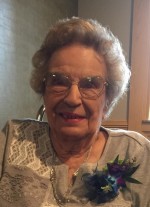 Elizabeth (Betty) Elsen
November 17, 2018
Elizabeth Kathleen Elsen, "Betty" age 92 of Loretto passed away peacefully on November 17, 2018. She was born Dec. 8, 1925 to Marvin and Bernice (Smith) Baker in Minneapolis, Minnesota.
Betty was preceded in death by her husband Nicholas; grandchildren Emma and Stephen Elsen; step-mother Margaret (Newton) Baker, siblings Russ Baker, Bob Baker, Mona Andreson, Joyce Thomas, and Jim Newton.
She is survived by her children Barb (Ron) Zachman, Kathy (Stuart) Hemmingson, Jerry (Patricia), Mazy Elsen, Greg (Sherry), Janice Voltin, Randy (Susie); grandchildren Jennifer, Kristofer, Laurel, Alyssa, Eric, Mike, John, Nick, Cassandra, Matt, Megan, Kristi, Paul, Jenny, Brandon, Lindsey, Joe, Mary, Kate, Peter, Julie, Laura, Nina; great grandchildren Kiley, Tyler, Avery, Ben, Vincent, Lucas, Maddie, Logan, Dawson, Elin, Hudson, and Emerson; siblings Jerry (Edna) Baker, Linda (Mike) MacDonald, and Joan (Steve) Bakken.
Mass of Christian Burial was held at 11 a.m. on Wednesday, November 21, 2018 at Ss. Peter and Paul Catholic Church in Loretto, Minnesota. Visitation took place form 4 to 8 p.m. on Tuesday at the Iten Funeral Home in Delano. Visitation continued Wednesday from 10 to 11 a.m. in the church prior to Mass. Interment was in the church cemetery.