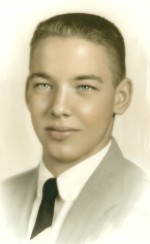 David "Bruce" Ellingson
10/9/2019
David "Bruce" Ellingson, age 81 of Delano, formerly of Minnetonka passed away on Wednesday, October 9, 2019 at his home with family by his side. He was born on March 26, 1938 in Minneapolis to Earl and Mandie (Flug) Ellingson. He grew up in South Minneapolis, moving to Grass Lake Terrace later in life. It was there that he met his wife, Jan (Brackett) Ellingson, whose family lived next door. 
Bruce attended Gustavus College where he was a member of the Wrestling team, majoring in Economics and Minoring in Math. He served in the U.S. Army and was Honorably Discharged in August 1962. Bruce then served in the U.S. Army Reserves until being discharged in August 1965.
After his service in the Army, Bruce married Jan Brackett and they raised 7 children. He was founder and President of Pharmacy Automation Systems. He enjoyed golfing and participated in the Minnesota Amateur and Pro-Am Tournaments. Bruce also coached hockey and Little League baseball. He loved to tell stories of his children's sports exploits, including almost making it to the Little League World Series. Bruce also enjoyed gardening and photography. Bruce loved his family and traveling with them all across the country in the big red and big blue vans. Most of all, Bruce was the friendliest guy you'd ever know, and everyone he met was an instant neighbor or friend. 
The most incredible story from his life is how they came to know Christ. After having 3 children, both Bruce and Jan were ready for divorce. But their children had recently been attending a backyard Bible club and bringing home scripture to memorize. As Bruce was helping the children memorize their verses one day, he had a thought that he should go and learn more about the most read book in the
world – The Bible. They started attending a Bible study at a local church and eventually surrendered their lives to Jesus and started a personal living relationship with Him. After that they decided to have 4 more kids and stayed together until his death.
"If you openly declare that Jesus is Lord and believe in your heart that God raised him from the dead, you will be saved." Romans 10:9 NLT. 
Bruce was preceded in death by his parents. He is survived by his wife of 54 years, Jan; children David Ellingson, Jr., Julie (Joey) Phillips, Mark (Lori) Ellingson, Jane (Kirk) Rosholt, Jennifer (Randy) Williams, Jill Ellingson and John (Shelly) Ellingson; 13 grandchildren Rylee and Aaron Phillips, Daniel and Jay Ellingson, Annabelle and Eva Ndenge, Charlotte, Randy, Jr. and Ezra Williams, Evan and Hannah Rosholt, Niklas and Simon Ellingson; brother Ronald (Karen) Ellingson.
A Memorial Service was held at 3 PM on Wednesday, October 16, 2019 at the Oak Terrace Senior Living of Jordan in the Upper Community Room. A Gathering of family and friends was from 2-3 PM prior to the service.  Inurnment with military honors was at Fort Snelling National Cemetery in Minneapolis that morning at 11:30 AM, Assembly Area 2.
In lieu of flowers, memorials preferred.