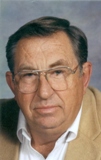 Elmer A. Schmidt
August 1, 2016
Elmer Arthur Schmidt, age 80 of Watertown, passed away on Monday, August 1, 2016 at St. Mary's in Winsted.
Elmer was born on April 4, 1936 in Hollywood Township, the son of Ed and Clara Schmidt. He was baptized at St. John's Church in Hollywood, MN. Elmer grew up on a farm with six siblings: Ervin, Harvey, Maynard, Arne, Elvera and Diane.
Elmer was a 1954 graduate from Watertown High School. While in high school, Elmer was active in plays/drama and athletics and was selected to his high school's sports Hall of Fame. Following a three year courtship, he married his high school sweetheart Dorothy Berwald on September 27, 1955.
Elmer served in the United States Armed forces from 1955 to 1957.   Shortly after their marriage Elmer was transferred to Korea for 18 months. He was stationed at the DMZ separating North and South Korea. While there he also he tried out for, and was selected to one of the elite military baseball teams. He spent the balance of his service years playing exhibition baseball to entertain the U.S. troops across South Korea.
Upon his return from service, he and Dorothy started a family. They had two sons, Michael and Tom. Michael went on to work in Aerospace Medicine while Tom worked alongside his dad in the golf business. While raising their family, Elmer was active in town team baseball for Watertown. He played and coached for over 20 years. As a testament to his work ethic, perseverance and dependability, he once pitched 18 straight innings in a league championship game for his team.   Elmer was instrumental in bringing town team baseball back to Watertown after the team disbanded in the 1960's. Elmer was the consummate fan of sports at the high school, college, and professional level, especially baseball, football, baseball and softball. He was known to travel almost any distance to watch his sons compete, and then he turned his passionate eye for sports to supporting his five grandsons.
Elmer served as president of St. Paul's Lutheran Church, president of it's mens club as well as treasurer.   He served his community for years as a member of the Watertown Lions Club and he was active in the Watertown Chamber of Commerce. Over his lifetime, Elmer held many different occupations, including milkman, raising rabbits, greenhouse owner/manager, service manager, and he was a business owner in Watertown for many years. While a manager at Bachman's, he was put in charge of the annual Dayton's flower show in downtown Minneapolis. While employed there, he also developed a keen eye for landscape design, which led him to both help design and build two golf courses that would become his pride and joy.
Elmer had a stroke approximately five years ago, which took away much of his physical and eventually cognitive abilities. His wife Dorothy was his constant caregiver and advocate in all his remaining years.
Prior to Elmer's stroke one of Elmer and Dorothy's favorite past times was "dancing". Whether in their living room at home, or out with good friends, they spent countless nights dancing.   Elmer was also an avid golfer. He and Dorothy went on many golfing outing with area businessmen, and close friends. They also loved traveling together.   In 2015 they celebrated their 60th wedding anniversary.
One of Elmer's greatest attributes, aside from his calming presence, was his sense of humor. He had a a quick wit, loved to laugh and was always cracking jokes with family and friends. Even though he suffered much during his final years, he never lost his love for cracking people up with his dry sense of humor.
To quote one of Elmer's close friends "Elmer was just plain one of the kindest and most thoughtful men God has put on this earth." He was a man of character, a man who truly cared about his fellow man, and a man who rarely had anything negative to say about anyone. Family was everything to Elmer. His grandchildren were his greatest source of joy. We are thankful that for so many years, our family has been richly blessed to be able to call him "husband," "father," "dad", "Grandpa Elmer," "Great Grandpa Elmer" and "friend".
Elmer was preceded in death by his parents Ed and Clara Schmidt; brothers Ervin, Maynard, Arne; sister Elvera Lockwood; brother-in-law Jerry Spagenske; nephew Ryan Schmidt; niece Renee Nelson; father and mother-in- law Herman & Lydia Berwald; brothers-in- law Marvin Berwald, Donald Berwald and Jim Borell.
Elmer is survived by his loving wife Dorothy; children Michael Schmidt, Tom & Linda Schmidt; grandchildren Caleb Schmidt (Katie Sarradet), Julian Schmidt (Kendall Carroll), Robbie & Kelsey Schmidt, Jonathan & Michelle Schmidt, Tyler and Chanel Schmidt; great-grandchildren Naarah, Maia, Lydia, & Naomi Schmidt. Brother and sister-in- law Harvey & Jo Schmidt; sister Diane Spagenske; brother-in- law Gordon Lockwood; sisters-in-law Vernetta Schmidt, Caroline Schmidt, Beverly Schmidt; brothers and sisters-in- law Verdella Borrell, Bonita Berwald, Dennis and Sandy Wabbe, and many nieces and nephews.
Memorial service was 7:00 P.M, Thursday, August 11, 2016 at Watertown Evangelical Free Church, 509 Jefferson Avenue SW., Watertown, MN 55388. Gathering of family and friends was from 4:00 to 7:00 p.m. prior to the service at the church. Light meal following the service. In lieu of flowers, memorials preferred.