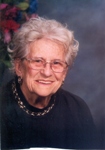 Elsie M. Roehl age 92 of Loretto died on Sunday, Nov. 7, 2010 at the Haven Homes in Maple Plain, Minnesota. She was born March 3, 1918 to Reed and Christine (Scherer) Keesling in Wayzata, Minnesota.
Elsie was preceded in death by her husband Bernard. She is survived by her children Jim and Darla Roehl, Larry Roehl, Ann and Lennart Holm; grandchildren Tim Roehl, Todd and Heidi Roehl, Amie and Jeffrey LaMott; 5 great grandchildren Parker and Carson Roehl, Spencer, Riley, and Drew LaMott; sister-in-law Toots Becker.
Mass of Christian Burial was held on Thursday, November 11, 2010 at Ss. Peter and Paul Catholic Church in Loretto, Minnesota. Rev. John Gallas celebrated the Mass with interment in the church cemetery. Casket bearers were John Branson, Tom Branson, Eddie Keesling, David Rogue, Joe Becker and Adam Arens.