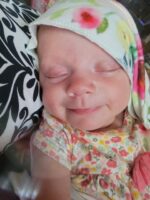 Emma Ann Effertz
July 10, 2021
Emma Ann Effertz, our little angel, came into this world 9 weeks early on May 20th and unexpectedly passed away in her sleep at home on July 10th at the age of 7 weeks.
Emma is survived by her loving mother Shelby Effertz; grandparents Cody and Tracey Effertz; great grandparents MaryAnn (Mimi) Pierterick, Marguerite (Peggy) Hosp, and Bernie (Niobe) Effertz; aunt Ashley Effertz; and uncle Dillon Effertz. She was preceded in death by great grandfather Robert (Bob) Hosp.
During her short time at home, she brought family and friends together with her beautiful smile, inquisitive large eyes, and calm personality and filled our lives with so much love. She was Shelby's little peanut.
Funeral service were held at 11 am on Saturday, July 17th with visitation from 10 – 11 am prior to the service at the Iten Funeral Chapel in Delano.