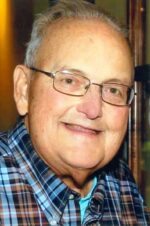 Eric Francis Lloyd
March 7th, 2021
Eric Francis Lloyd, age 76, of Rockford, Minnesota (formerly of Staples/St. Paul) passed away peacefully on Sunday, March 7, 2021. He was born on October 17, 1944 to Eric and Mary (Grace) Lloyd in Denver, Colorado.
Eric graduated from St. Thomas Military Academy and then from the University of Minnesota with a Bachelor's degree in Parks and Recreation. His career included working for the city and school in Staples as Park and Recreation Director/Community Education Director and then working for Rockford Schools as Community Education Director. He retired from Rockford High School in 2000.
Eric was previously a member of Ss. Peter and Paul Catholic Church in Loretto, Minnesota and most recently a member of The Church of St. Maximilian Kolbe in Delano, Minnesota. He was actively involved in his communities and his parishes. He attained the Fourth Degree as a member of the Loretto Knights of Columbus where he served as Financial Secretary, Grand Knight, and several other positions, including the appointment of District Deputy. He was also a member of the Rockford Lions and a recipient of the Melvin Jones Fellowship Honor.
Eric is survived by his wife of 51 years, Stephanie "Stevie" (Kerwin) of Rockford, Minnesota; children Sarah (Dave) Byasee, Jennifer Lloyd, Matthew (Kelly) Lloyd, Peter (Sarah) Lloyd; grandchildren Ashley Maue, Derek (Valerie) Byasee (parents of great-grandchildren Lucianne, Madelyn, Lilah, Delaney, and Grayson), Morgan (Nathan) Swoverland (parents of great-granddaughter Ellie), Madison Lloyd, Evelyn Lloyd, Olivia Lloyd, Isabelle Lloyd, Autumn Lloyd; siblings Tom (Mary Kay) Lloyd, Rita Lloyd, and Mary Louise "Wezi" Grecco.
Eric was preceded in death by his parents Eric and Mary Lloyd; sister Patricia Houser; brother-in-law Michael Houser; and parents-in-law Paul and Elizabeth Kerwin.
Mass of Christian Burial was held on Friday, March 12, 2021 at 1:00 p.m. at The Church of St. Maximilian Kolbe, St. Peter's Campus in Delano. Visitation was on Thursday, March 11, 2021 from 4:00-7:00 p.m. at the Iten Funeral Home in Delano. A Rosary Service was held on Friday, March 12, 2021 at 12:10 p.m. at the Iten Funeral Home. Interment was on Friday, March 12, 2021 at 3:30 p.m. at Calvary Cemetery, St. Paul, Minnesota. (No procession.)
The Mass was live streamed on the Iten Funeral Home YouTube page, through the link provided below:

The Committal Service was live streamed on the Iten Funeral Home Youtube page, through the link provided below:

Note: Live-streaming*
In order to mobile live-stream the Mass, Youtube requires we maintain 1,000+ subscribers. In order to ensure we can continue to provide mobile live-streaming services to families, we ask that you please subscribe to our Iten Funeral Home Youtube page.
https://www.youtube.com/channel/UCcYxByHG3qDWGb78BJkdJBg