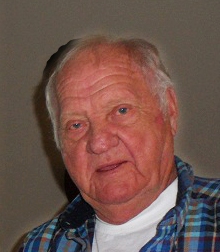 Ernest Everett Johnson,"Ernie" age 73 of Delano passed away on Monday, August 20, 2012. He was born December 26, 1938 to Leander and Isabella (Simonson) Johnson in Camp Lake, Minnesota.
Ernie was preceded in death by his parents Leander and Isabella; siblings Floyd Johnson, Arvid Johnson, Lenard Johnson and Lenara Strand. He is survived by his wife Barbara; children Pamela, Everett, Mary (Todd) Murley, Theresa (Michael) Sieg, Patrick (Kiyo), Leander; 6 grandchildren; siblings Irvin (Ellen), Vern, Ione (Harlan) Lund.
Mass of Christian Burial was held on Friday, August 24, 2012 at 11 a.m. at St. Joseph Catholic Church in Delano, Minnesota.