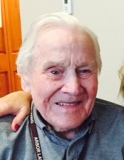 Erwin "Aubie" Theis
July 20, 2017
Erwin C. "Aubie" Theis, age 94 of Delano.
He was known for delivery of bulk oil in the Delano area. This led to his starting a real estate business/brokerage in Delano. In his 80's, Aubie accepted Jesus Christ as his Savior and Lord, assuring him a place in heaven for eternity.
Aubie was preceded in death by wife Elizabeth "Betty".  He is survived by children Susan (Erik) Swallender, Debra (Stan) Hamann, Vicki (George) Ceass, Judy Newman, John (Michelle), Janie Toutloff-Martini; 10 grandchildren; 9 great grandchildren; brother Pete (Pat) Theis.
Memorial Service 7 P.M. Monday, July 24, 2017 with gathering of family and friends 5-7 P.M. Monday at Iten Funeral Home, Delano. In honor of Aubie, any western attire worn to the service would make him smile.