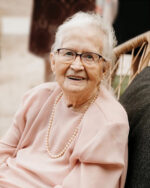 Estelle H. Schaust (Hance)
December 31, 2021
Estelle Helen Schaust
Estelle, age 88, left us for her heavenly home on Friday, December 31, 2021.
She was born on September 22, 1933, to Wilfred and Helen (Reintjes) Hance in Buffalo, Minnesota. During an arranged date by Estelle's sister, she met Mathias (Matt) Schaust and they were united in marriage on February 25, 1952, at St. Francis Catholic Church in Buffalo. Soon after, they started a family and would raise seven children.
In their early years, Estelle was a busy mother and key to running a household and family farm. She always had room for anyone that needed a place to stay, a meal or a gentle ear. By 1972, they were out of the farming business and in 1979 moved to Fairfax. As her youngest was getting ready to graduate from high school, Estelle began doing daycare out of their home in Fairfax and later in Perham. The connections with those children and families would be impactful and long lasting.
Estelle had a way about her that made everyone feel special and important. Individually, each of her thirteen grandchildren had the privilege of knowing that they were "her favorite." She would never turn down an opportunity to spend time with family and shared her love of baking, picnics, exploring, moon parties and Christmas. Christmas was her favorite and she always made it a special time of year.
In 1996, Estelle and Matt took a job as caretakers for an estate on the shores of Lake Minnetonka. It was during these years that she and Matt were able to enjoy lake life. Many fish fries were hosted with Estelle's homemade bread and her prized baked goods. Her recipes will carry on, although it may take years of practice to perfect them with Estelle's love and grace mixed in.
In 2007, Matt and Estelle moved to Champlin, where she enjoyed retirement years. She continued baking, making friends, and reading. Her ability to recall dates of family, historic and current events was always spot on. These helped make her a great storyteller. Sometimes we were not sure if the stories were slightly embellished, but no one cared, we just loved listening.
In 2017 Matt and Estelle moved back home to Delano and eventually Maple Plain. Matt and Estelle were married 68 years when she lost him last year.
The way that Estelle made others feel will never be forgotten. Estelle's presence gave you an immediate sense of welcome and calm and the value she placed on faith, family and friends was remarkable. She is already dearly missed and forever in our hearts.
Preceded in death by: Husband Matt Sr, son Matt Jr and infant children Mary and David; Siblings: Kathleen Gnitka, Joan (George Sr) Schaust, Rita (Arnold) Kunkel, Ed Hance, (Janet) Hance; In-Laws: Mathilda (John) Florek, Leona (George) Fake Sr, Anthony Schaust Jr, Elizabeth (Richard) Gabrelcik, Loren Sr (Dorothy) Schaust, Joseph Sr (Lorraine) Schaust, (Glen) Litfin, Jean (Ambrose) Farniok, Leonard Sr (Maxine) Schaust
Survived by: Children: Lynn (Randy) Wendt, Michael (Lori) Schaust, Ed (Mary Jo) Schaust, John (Barb) Schaust, Dennis Schaust, Becky (Jim) Bakken; Grandchildren: Kristine (Jake) Jacobson, Sarah Wendt, Jason (Amy) Wendt, Jesse (Sammi) Wendt, Eric (Morgan) Tschimperle, Willy (Zoey) Schaust, Sydney Schaust, Kate Schaust, Robb (Rachelle) Schaust, Randi (Cory) Flaata, David Schaust, Keely (Ryan) Couillard, Cameron (Shelby) Schaust;  Great Grandchildren: Carter, Carmyn, Conner, Abbi, Cooper, Kaiden, Kyilee, Aubree, Rue, Wren, Eliason, Evelynn and Macallan;  Siblings/In-Laws: (Ralph) Gnitka, Jerry (Dee) Hance, (Erva) Hance, Larry (Diane) Hance, Delores Schaust, Arlene Litfin.
Memorial Mass of Christian Burial was at 11:30 AM on Tuesday, January 18, 2022 at St. Maximilian Kolbe, St. Peter Campus, in Delano. A gathering of family and friends was Tuesday, from 9-11:30 AM prior to the Mass, in Martha's Hall of St. Peter Campus. Lunch was in Handzel Hall at St. Maximilian Kolbe, St. Joseph Campus after the Mass. Inurnment at a later date in the Immaculate Conception Catholic Cemetery in Watertown.
The Mass was live-streamed through the link provided below: