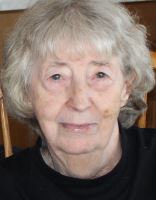 Eva Lee Eckdahl
May 2, 2016
Eva Lee (Devinney) Eckdahl, age 84 of Delano, passed away peacefully on May 2, 2016 in Waconia. Loving wife, mother, grandmother & great-grandmother. Lee was born in Hoonah, AK, graduated from McKinley High School in Canton, Ohio in 1950, and married Raymond G. Eckdahl in Canton in 1953. They made their home in Maple Plain for many years and retired to Delano in 1987. Lee loved her family, gardening, cooking & canning, cats, and her church, especially the hymns and the babies' nursery.
Lee was preceded in death by her parents, James Murray and Ada LeeOra (Clark) Devinney, and her brother George "Calvin" Devinney. She is survived by Ray, her husband of 63 years; children: Beth (Lyle) Hosek, Tim (Sarah), Lynette (Alex) Weir, Steve (Patty), Susan (Mark) Kroontje, Mary (Kevin) Bauman, Tom (Tracy), and Karen (Gregg) Laurence; grandchildren: Jessie Hosek, Peter Eckdahl, James Eckdahl, Craig (Noel) Weir, Matthew Weir, Jon (Betsy) Eckdahl, Emily (David) Ebnet, Stephanie (Jason) Hayunga, Rachel Kroontje, Heather Kroontje, Amanda Bauman, Wendy Bauman, Abbie Eckdahl, Andrew (Alyssa Mulholland) Eckdahl, Isaac Eckdahl, Nathan Laurence, Caleb Laurence, and Rebecca Laurence; great-grandchildren: Vienna Weir, Jonah Eckdahl and Samuel Ebnet.
Funeral Service 11:00 AM Saturday, May 7, 2016 at Maple Plain Community Church, Maple Plain. Visitation 5-8 PM Friday at Iten Funeral Home, Delano. Visitation continued Saturday 10-11 AM at church prior to the service. Memorials can be directed to Maple Plain Community Church Missions Fund.