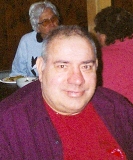 Frank J. Florey
April 25, 2019
Frank J. Florey was born on September 5, 1941 in Lancaster, MN to Albert and Antonia (Wilebski) Florey. The family moved to North Minneapolis in 1957, living on 14th Ave, Girard Ave and then Colfax Ave.
After his parent's passing in the early 1980's, Frank went to live with his sister Ursula. They lived in Blaine until Frank moved in with his brother Ross and wife Judy in March 2018, a month before Ursula passed away of cancer. After a 5 day stay at North Memorial, Frank was put in hospice and moved into the Estates of Delano. He was there a week before passing away on Thursday, April 25, 2019 at the age of 77.
Over the years, Frank enjoyed wrestling, Vikings Football, playing poker and just watching Westerns on TV, where he could name most of the actors and actresses. His would always ask "Anything New?" or "What's the Weather Like?" and tell all of his caregivers "In 1955 there were 103" of snow and I had to shovel it!"
Frank was preceded in death by his parents Al and Antonia; siblings Kristine Potrament, Joe Wildhardt, Ursula Randolph, and Dorothy Newell. He is survived by his siblings Gertrude (Frank) Patterson, Roman (Judy) Florey, and Monica (Gary) Herreld as well as many nieces and nephews.
Mass of Christian Burial was held at 11 AM on Tuesday, April 30, 2019 at Ss Peter and Paul Catholic Church in Loretto. Visitation was Tuesday, from 10-11 AM with a 9:30 AM Rosary Service, prior to the Mass, at the church. Interment was in the Gethsemane Cemetery in New Hope.