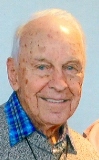 Fred F. Gordon
April 27, 2018
It is with an unbelievably heavy heart that we announce the passing of Fred Gordon, beloved husband, father, Grandpa and GG Pa, On Friday, April 27, just three months short of his 100th birthday.
Fred was born July 14, 1918, in Emerson, Nebraska, the son of Eva Williams and Frederick Gordon Sr.
Fred was a talented athlete, excelling in basketball at St.Ansgar, Iowa High School and Iowa State University/Ames where he was the starting guard for the Big Six Championship team in 1941. Fred entered the military as a 2nd Lt. In January 1942, and reported to the 2nd Cavalry Battalion (horse drawn) at Ft. Riley, Kansas. After several months the unit became the 9th Armored Division, replacing the horses with armored vehicles and tanks. Fred landed on Utah Beach in September 1944 after being held up in England awaiting the arrival of their weapons. During the Battle of the Bulge Fred served as Battery Exec in charge of the firing of six 105 Howitzers mounted on M7 tanks. His Third Field Artillery Battalion was also involved in the capture of the Remagen Bridge (the Ludendorff Bridge at Remagen). His unit was awarded the Presidential Unit Citation and he received the Bronze Star. Following WWII Fred joined the National Guard in Iowa and was called back to duty during the Korean Conflict, his unit being sent to Germany. Fred retired as LtCol from the Minnesota National Guard in 1978 following 27 years of service.
Fred worked for USDA in Dairy Inspection and Grading for 30 years, retiring as Assistant Regional Supervisor in 1979.
He was an active member of Delano United Methodist Church being a longstanding member of the church choir
Fred loved to spend time at his "farm" in Floodwood, MN, with Cheryl and family. He enjoyed watching his grandchildren and great grandchildren play baseball, soccer hockey, bowling and golf. He also loved to watch sports on TV and was a loyal but frustrated fan of the Minnesota Vikings.
Fred has lived an amazing life. He loved travel adventures. He went on an African Safari and ate goat over the fire, saw the polar bears, took a wagon train, went dog-sledding, visited the Galápagos Islands, went to many Battle of the Bulge reunions including those in Belgium and Luxembourg. In December he was honored to place the wreath at the Tomb of the Unknown Soldier during the Changing of the Guard Ceremony at Arlington National Cemetery. All together he visited over 25 foreign countries and every state in the U.S. except Vermont.
Fred will be so deeply missed by his family and many friends.
Survived by his beloved wife of 38 years, Cheryl, children Fred (Becky), Gail, and Nancy (Denny) Schueller. Grandchildren Corrie Schueller, Doug (Carrie) Schueller, Flash (Holly Nobel), Hannah and Sarah. Great Grandchildren Mason and Gavyn Wold, Aubree, Dawson and Luca Schueller and Catelyna DeLeon. Many nieces and nephews.
Preceded in death by his first wife Levohn of 32 years and all his 10 siblings.
A Gathering of family and friends was held on Friday, May 11, 4-8 PM at Delano United Methodist Church with a Sharing of Memories at 6:30 PM. A Celebration of Life Memorial Service was at 11 AM Saturday, May 12, preceded by a short gathering from 10-11, also at Delano United Methodist Church. Inurnment with Military Honors at Fort Snelling National Cemetery, Minneapolis at a later date.