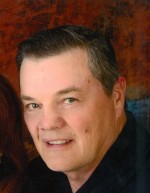 Gary Theisen
July 20, 2017
Gary Kenneth Theisen, age 64 of Waverly, passed away peacefully after a courageous battle with cancer on Thursday, July 20, 2017, at his farm with his family by his side. He was born September 9, 1952 in Watertown, Minnesota, to Kenneth and Delores (Becker) Theisen.  
Gary graduated from Watertown High School and he went onto continue his education and athletic career playing football at Valley City State University in North Dakota. After college, playing fastpitch softball led to his career as a union carpenter for 30-plus years.  Beef cattle and crops were another career on Crowrosa Farm in Marysville Township.  Gary loved to attend family events, most of all spending time with his grandchildren.  Other passions were hunting, four-wheeling, classic cars and socializing with family and friends on the farm. 
On November 8, 1975, he was united in marriage to Cynthia Peterson at St. Mary Catholic Church in Waverly.  
Gary was preceded in death by his parents Kenneth and Delores; daughter Eve Theisen; brother-in-law Mike Speltz; father-in-law Wally Peterson. 
Gary is survived by his wife Cindy (Peterson), children Brooke (Mike) Cebulla, Mitchell (Erika) Theisen, Tessa Theisen; grandchildren Tyson, Elsa, Cooper and baby T (on the way); siblings Mark (Cherree) Theisen, Danny Theisen, Lorie Speltz; Michael Theisen (Dawn Demarais) and Lonnie (Marci) Theisen; mother-in-law Arleen Peterson; as well as many nieces, nephews, cousins and friends. 
Mass of Christian Burial was held on Saturday, July 22, 2017 at 11 a.m. at Church of St. Mary in Waverly, Minnesota.  Visitation took place from 8 to 10:45 a.m. on Saturday in the St. Mary's Parish Center.  Interment was in the church cemetery.