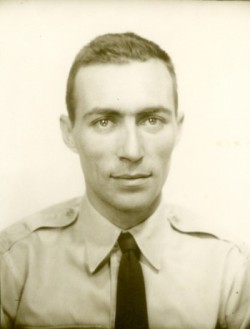 George Otto
June 30, 2016
George Edward Otto age 91 of Delano, Minnesota passed away on Thursday, June 30, 2016 at the VA Medical Center in St. Cloud, Minnesota. He was born September 27, 1924 to Gregory and Justine (Kittock) Otto in Franklin Township, Minnesota.
George served over 20 years in the US Army. He was inducted in 1944 during World War II and went on to serve in Korean and Vietnam, being honorably discharged at the rank of Staff Sergeant. Upon leaving the military he was employed as a truck driver and eventually went on to owning and operating O and O Deliveries for 22 years; a company his son currently owns and operates today.
George was preceded in death by his wife Joyce; his son Dwight; siblings and spouses Rod (Evelyn) Otto, Charlie Otto, Viola (Lloyd) Maas and Birdie (Jim) Rose.
He is survived by his sons Greg (Jacky) Otto, Jeff (Lorri) Otto; 3 grandchildren Christopher Otto, Ryan (Anne) Otto, Ashley (Adam) Meert; 2 great grandchildren Abigail and Reese; siblings and spouses Fritz (Beverly) Otto, Richard (Rose) Otto, Clem (Kay) Otto, Eddie (Lisa) Otto, Sylvia (Russ) Davis and Caye Hurst; brother-in-law Harry Poliwoda; sisters-in-law Donna Leick and Janice Van Lith Ruhr.
Memorial Mass of Christian Burial was held at 11 a.m. on Wednesday, July 6, 2016 at St. Peter Catholic Church in Delano, Minnesota. Gathering of family and friends took place from 10 to 11 a.m. on Wednesday in Martha's Hall of St. Peter Catholic Church prior to Mass. Inurnment with military honors was in the Calvary Cemetery in Delano, Minnesota.