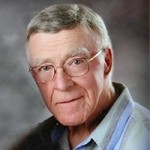 George Schaust
July 4, 2019
George Edward Schaust, age 89 of Delano, passed away peacefully on July 4, 2019 at his home of 67 years surrounded by family. He was born on March 3, 1930 to Anthony and Elizabeth (Pogreba) Schaust in Franklin Township, Minnesota alongside his twin sister, Genevieve.
George was a graduate of the Delano class of 1948. He married Joan Mary Hance in 1952 and they had seven children. George was a beloved son, brother, father, grandfather, and great-grandfather. He farmed most of his life, put in 20 years working at the Delano Public Schools, and in retirement he worked at the Rockford Town Hall for another 20 years.
A devoted Catholic, he was a lifelong parishioner of St. Peter's Church. His love for his family made him a strong provider who always put others before himself. Anyone who knew George can remember his love for dancing, his country, and his faith. His family feels at peace now that he and his wife of 67 years are enjoying dancing together again in heaven.
George was preceded in death by his wife, Joan Mary (Hance) Schaust, who died on May 17, 2019; his parents, Anthony and Elizabeth (Pogreba) Schaust; his siblings Matilda (John) Florek, Leona (George) Fake, Anthony Schaust, Betty (Rich), Gabrelcik, Joseph Schaust, Loren (Dorothy) Schaust; and brother-in-law's Glen Litfin and Bob Farniok.
He is survived by his children George Jr. (Gayle) Schaust, Ranee (Rick) Wagner, Lorri (Jeff) Otto, Randy (Dana) Schaust, Steve (Cindy) Schaust, Molly (Brian) Mellgren, Brian (Tammy) Schaust; 15 grandchildren Heather Daniels, Erica (Seth) Bossert, Andy Schaust, Keith Wagner, Brett Wagner, Ryan (Anne) Otto, Ashley (Adam) Meert, Hannah Schaust, Megan Schaust, Nicholas Mellgren, Kayla (Riley) Dalbey, Scott Mellgren, Allison Schaust, Trevor Schaust, Grace Schaust; 9 great-grandchildren Aurora Daniels, Sam Daniels, Keyton Wagner, Abby Otto, Reese Otto, Liam Young, Kennedy Dalbey, Jackson Dalbey, Carter Mellgren; siblings Arlene Litfin, Genevieve Farniok, Leonard (Maxine) Schaust, Matt (Estelle) Schaust; and sister-in-law's Deloris Schaust and Lorraine Schaust.
Mass of Christian Burial was held at 11 AM on Thursday, July 11, 2019 at St. Peter Catholic Church in Delano. Visitation was Wednesday, 4-8 PM with 3:30 PM Rosary and 7:30 PM Prayer Service and continued Thursday, 10-11 AM, prior to the Mass, ALL in Martha's Hall of St. Peter Catholic Church. Interment was in Calvary Cemetery in Delano.
Arrangements by the Iten Funeral Home in Delano.