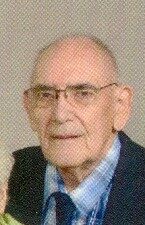 George J. Schaar
May 5th, 2022
George Joseph Immanuel Schaar was born under a full moon at 6:10 AM on Christmas Day, 1931. He was baptized on January 1st, 1932. He was the third child of John and Lillie (Kettenacker) Schaar. He grew up on a farm between Rockford and Buffalo, in rural Wright County. Geroge went to a one room country school (District 40) through eighth grade and graduated from Rockford High School in 1949.
In 1952, Uncle Sam called George to two years of Army service during the Korean War. While in the service, he married the love of his life Patricia A. Hayes of Delano, Minnesota. After his military service, they moved back to Delano to start their lives. Upon arrival, George got a job as an electric diesel operator and lineman at the Delano Power Plant. He worked there for 20 years, with varying side jobs such as school bus driving, part time police work, captain on the Delano Fire Department, and firearm safety instructor. Later, he worked part-time as a police officer for Maple Lake and Howard Lake. George went on to be the Police Chief of Howard Lake for five years. George then worked as a Lieutenant for the armed security at the Monticello Nuclear Power Plant for two years. He also worked at the federal courthouse in Minneapolis for two years, being sworn in as a Deputy U.S. Marshal by U.S. judge Miles Ford. Following his time as a marshal, George worked as an undercover operator for a private security company. Failing healthy prompted him to retire and help his wife Pat with her home daycare business.
He was preceded in death by his parents, son Tim Schaar; grand-daughter Angela Schaar; great-grand-daughter Peyton Hamill; sister Irma Tombers; brothers John (Ann) Schaar, Walter (Sandy) Schaar, and Marvin Schaar;
George is survived by his wife of 67 years, Pat; children Steven (Michelle), Susan (John) Hamill, Rita Decker (Robert Brown), and Vanessa (Matt) Zimmerman; daughter-in-law Chris Schaar; 11 grandchildren; 12 great-grandchildren; as well as many nieces, nephews, cousins, family and friends.
Mass of Christian Burial was held at 11 a.m. on Friday, May 13, 2022, at the Church of St. Mary, Waverly, MN. Visitation was held from 4 to 7 p.m. Thursday with a 7 p.m. prayer service in St. Mary's Parish center. Visitation continued on Friday from 10 to 10:45 a.m. prior to Mass.