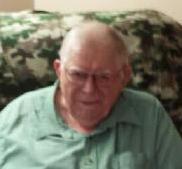 George J. Marketon
December 8, 2016
George John Marketon, age 89 of Howard Lake, passed away peacefully on Thursday, December 8, 2016. He was born on August 4, 1927 to John and Julia (Fautsch) Marketon in Middleville Township, Minnesota.
George was a lifelong farmer in the Howard Lake/Waverly area. He was a lifelong member of St. Mary Catholic Church in Waverly. He was united in marriage on November 9, 1949 to Jean Linquist. They raised four children on the family farm north of Howard Lake.
George enjoyed fishing, hunting, bowling and playing cards. He was known for traveling distances for lutefisk dinners. Homemade tomato juice and homemade bread were two of his favorite things; but his most favorite thing of all was his family.
George was preceded in death by his parents; wife of 63 years Jean; infant great granddaughter Hope Angela Tauer; siblings Anthony Marketon, LeRoy Marketon, Dorothy Bauman and Gladie Broll; brothers-in-law and sister-in-law Albert Czanstkowski, Ronald Russ, Paulette Marketon and Ralph Bauman; 12 other brothers-in-law and sisters-in-law.
George is survived by his children LuJean (Larry) Starke, Kenneth (Colleen) Marketon, Virginia (Kenneth) Wandersee and Robert (Annette) Marketon; 10 grandchildren David Starke, Karen (Nathan) Crawford, Julie (Matthew) Lorentz, Angela (David) Tauer, Kari (Jason) Gardner, Timothy (Laura) Marketon, Shawn (Elisabeth) Kadlec, Jeremy Kadlec, Sarah Marketon and Lindsay Marketon; 3 step grandchildren Bethany (Nick) Orton, Daniel (Cindy) Wandersee and James (Megan) Wandersee; 24 great grandchildren; siblings Frances Czanstkowski, Anne (Herb) Wehle, Joe (Agnes) Marketon, Irene Russ, Marie (Herb) Kapsner, Donald Marketon, Clarence (Rena) Marketon and Joan (Jeff) Johnson; brother-in-law Larry Broll; 5 brothers-in-law and sisters-in-law.
Mass of Christian Burial was held at 10:30 AM on Monday, December 12, 2016 at the Church of St. Mary in Waverly. Visitation was held on Sunday from 4-7:30 PM at St. Mary's Parish Center in Waverly. Visitation continued Monday from 9:30 to 10:15 AM in the Parish Center prior to the Mass. Interment was in St. Mary's Catholic Cemetery in Waverly.