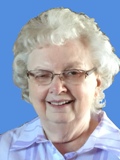 Georgina A. Miller
November 1, 2017
Georgina Anne Miller, age 83 of Maple Plain, passed away on Wednesday, November 1, 2017 after gracefully enduring several ailments. She was born on May 1, 1934 in Barnum, Minnesota to George and Ethel (Johnson) Schultz.
Georgie was a loving mother, grandmother, sister, aunt and a 'special lady.' She loved being with family, and her gentle, polite demeanor easily won everyone over. She was very faithful, prayerful and marked her favorite Scriptures. She read Portals of Prayer daily, and was a long-time member of Christ Lutheran Church. Living in the area for over 50 years, and working at the Miller's Store and Maple Plain Family Center (MPFC), made her recognizable in the community. She was a dedicated homemaker and accomplished seamstress, all the while working full-time. In her heyday, she danced with her husband to polka music at the Medina Ballroom. Her flower and vegetable gardens and plants, particularly African violets, were picture worthy. Her bread and butter pickle recipe was well-liked and has been passed on to extended family. She was a fan of the Timberwolves and Vikings. Every evening she had to have her dish of vanilla ice cream.
Georgina was preceded in death by her grandparents; parents George and Ethel; husband Glenn, son Bryan, daughter Janice Ralidak, granddaughter Justina Anderson, sister-in-law Peggy Schultz, brother-in-law Eugene Parenteau. She is survived by her children Kathleen Van Liere, Sharon Miller (Ron Ralidak) and Jeff (Michelle) Miller; grandchildren Adam and Alicia Van Liere, Jennifer Miller and Marissa, Justine, Cody and Cole Miller; siblings Robert (Mary) Schultz, Charlene Parenteau and Virginia (Ernest) Engle.
Memorial Service was held at 2 PM on Wednesday, November 8, 2017 at Our Father's Lutheran Church, Rockford. A gathering of family and friends was on Wednesday, 1-2 PM prior to the service at the church.