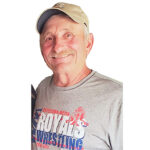 Gerald "Jerry" S. Peterson
January 29th, 2021
Gerald Scott Peterson "Jerry" age 62 of Watertown, MN passed on Friday, January 29, 2021 after a head trauma from a fall at work surrounded by his immediate family at North Memorial Hospital.
Jerry was born March 4, 1958 in Watertown, MN to Glen and Adelle Peterson. He grew up on the family farm and had a love for farming that carried throughout his entire life. Went to Willmar Vo-Tech to be a Diesel Mechanic in 1977. Spent his last 30 years as a Crane Operator and Mechanic.
On June 9, 1979 Jerry was united in marriage to his High School sweetheart Patti Motzko at Immaculate Conception Catholic Church in Watertown, MN. They spent the last 32 years on family land where they built their dream home raising their four children: Troy, Nicole, Amy, Travis. Jerry was best known for his affectious smile, family traditions and his hard work ethic.
Jerry's greatest joy was being Grandpa to his thirteen grandchildren. He loved taking them to his farm and giving them pick up rides up and down the driveway. He attended all their sporting events, activities and was always so proud of them. He had a deep love for wrestling and the wrestling community. You always left happier after talking to Jerry, he had a way with getting to know others like no one else could.
Jerry was preceded in death by his dad Glen Peterson; sister Diane Asfeld; brother-in-law Tom Kentfield; father-in-law Gordon "Mox" Motzko; brother-in-law Doug Olson; sister-in-law Millicent Motzko. He is survived by wife of 41 years, Patti Peterson (Motzko); children: son, Troy (Tiffany) Peterson and Kalli, Ian, Ashley, Bryce, Emily; daughter, Nicole (Brett) Sutter and Madelyn, Shelby, Bryce, Samantha, Ella; daughter, Amy (Darik) Stein and Callie, Alison, Hailey; son, Travis aka "PIPES" Peterson; mother Adelle Peterson; siblings Sandy (Lucian) Vittori, Ron Peterson, James (Dawn) Peterson, Carol Emal and Steve Chance, Nancy Peterson, Donna (Gary) Anderson, Jeff Peterson; brother-in-law Gordan Asfeld, mother-in-law Jean Motzko; brothers-in-law and sisters-in-law: Gary Motzko, Joni Olson (Brian Stroad), John (Danice) Motzko, Joe (Pat) Motzko, Andy (Kathleen) Motzko, Tony Motzko, Dale (Jodi) Motzko and many nieces and nephews.
Mass of Christian Burial was held at 11 AM on Saturday, February 6, 2021 at St. Mary of Czestochowa Catholic Church in rural Delano. (1867 95th St. SE Delano, MN 55328) Visitation was on Saturday, from 8 – 11 AM, prior to the Mass, at the church. Interment was in the Immaculate Conception Catholic Cemetery in Watertown.
Jerry will be greatly missed, but we know he now has the best seat in the house!
The Mass was livestreamed on the Iten Funeral Home Facebook page, through the link provided below:
https://www.facebook.com/events/121864209820706/
A video of the Mass is provided on the Iten Funeral Home Youtube page, through the link below: