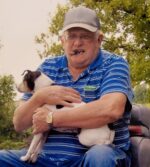 Gerald Louis "Jerry" Smith
March 18, 2021
Gerald Louis Smith, "Jerry" age 77 of Howard Lake/ Waverly passed away peacefully on Thursday, March 18, 2021 surrounded by his family on his farm. He was born October 12, 1943 to Louis and Etta (Gebhardt) Smith in Montrose, Minnesota.
Jerry graduated in 1961 from St. Mary's High School in Waverly. Jerry was united in marriage on October 21, 1967 to Margarete "Maggie" Caviezel at St. Vincent de Paul Catholic Church in St. Paul, Minnesota.
He was preceded in death by his parents Louis and Etta Smith; sister Darlene (Smith) Drusch.
Jerry was a lifelong farmer who enjoyed spending time outside. He loved all things music with a particular love for singing and the drums. He played in a band in high school and further into life he enjoyed entertaining people in a polka band with his good friend Jerry Knop. He will be remembered by all as a caring, understanding man who loved his family and his cigars.
Jerry is survived by his beloved wife of 53 years, Maggie; children Jason (Lisa), Serena, Samantha (Andrew), Tabitha and Romana; grandchildren Alexandra (Jacob), Jenna, Lauren, Tyler, Jordan, Avery, Dillon, Gia, Zachary (Joanna) and Tonya (Zach); great-grandchildren Chloe, Mason, Jayla, Zayne and Bentley.
Memorial Mass of Christian Burial was held on March 31, 2021 at the Church of St. Mary in Waverly, Minnesota at 11 AM. A celebration of life and inurnment at St. Mary's cemetery will be held at a future date.
The Mass was live streamed on the Iten Funeral Home YouTube page, through the link provided below:

Note: Live-streaming*
In order to mobile live-stream the Mass, Youtube requires we maintain 1,000+ subscribers. In order to ensure we can continue to provide mobile live-streaming services to families, we ask that you please subscribe to our Iten Funeral Home Youtube page.
https://www.youtube.com/channel/UCcYxByHG3qDWGb78BJkdJBg