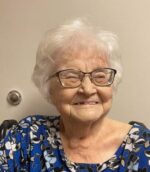 Geraldine "Gibber" Motzko
November 19, 2022
Geraldine J. Motzko, "Gibber" age 89 of Watertown passed away on Saturday, November 19, 2022. She was born March 20, 1933, to Martin and Florence (Dalbec) McCalpin in Waverly, Minnesota.
Gibber was a loving wife, mother, grandmother, great grandmother and great great grandmother. She was preceded in death by her husband James; infant grandchildren and great grandchildren; son-in-law Kenneth Leuthner, daughter-in-law Georgiana Motzko; siblings Francis, George, Robert "Zig", Goldie Ogle, Betty Alger, Maimie Ratcliff, Antonette Smith, Kate Schwalbe, and Irene Antil.
She is survived by her children: Bev Leuthner, Ron Motzko, Nancy (Jerry) Fiecke, Debbie (Joe) Mauk, James Motzko Jr. and Timothy (Judy) Motzko; 21 grandchildren; 54 great grandchildren; 2 great great grandchildren.
Mass of Christian Burial was held on Saturday, November 26, 2022, at 11 a.m. at St. Mary of Czestochowa Catholic Church in rural Delano. Visitation took place in the church on Friday from 4 to 8 p.m. with a 7:30 p.m. prayer service and continued Saturday from 10 to 11 a.m. prior to the Mass. Interment was in the church cemetery.