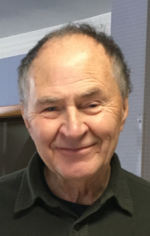 Glenn Thorson
January 9, 2020
On January 9, 2020, Glenn Thorson, loving husband and father of three, passed away peacefully at the age of 69 and is now home with his Lord and Savior Jesus Christ.
Glenn was born in Omaha, NE on October 1, 1950 to Loren and Maxine Thorson. He graduated from Central High School in Omaha. Glenn attended Crown College in St. Bonifacius and graduated in 1973. While at Crown, Glenn met the love of his life, Judy Mickelson. On April 20, 1974, Glenn and Judy were united in marriage. They were married for 45 years and made their home in Watertown, MN.
Glenn worked for Eaton Corporation in the IT department for 30 years. He loved spending time with his family including his four grandchildren, hiking at State parks, refinishing furniture, garage sales, and the occasional trip to Menards. Glenn loved to tell jokes, tinkering with electronics, and baking his famous cookies.
Glenn is preceded in death by his parents Loren and Maxine Thorson. He is survived by his wife Judy, daughter Kristi (Mark) Krotzer, sons Ryan (Courtney) Thorson and Brent Thorson, four grandchildren Noel, David, Owen, and Emery, sister Carolyn (John) Brokopp, brothers Bill (Shari) Thorson, Larry (Leslie) Thorson and David (Leslie) Thorson, step mother Eleanor Thorson, as well as many aunts, uncles, cousins, nieces and nephews.
Memorial services were held on Friday, January 17, 2020 at 11 a.m. at Village Evangelical Free Church located at 5725 County Rd 11, Independence, MN. A gathering of family and friends took place in the church for 1 hour prior to the services from 10 to 11 a.m. A private family inurnment was held at the Watertown Public Cemetery in Watertown, MN.