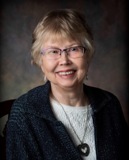 Gloria Schuette (Service Postponed)
March 9, 2020
Gloria Adelle Schuette, age 86 of Delano, passed away on Monday, March 9,2020 at Ridgeview Medical Center in Waconia. Services are postponed until further notice. Arrangements are handled by Iten Funeral Home in Delano.
Gloria was born on March 3, 1934 to Iver and Carrie (Hockel) Eng in Mountain Lake, MN. She was baptized and confirmed at St. Olaf Lutheran Church in rural Odin. She graduated from Trimont High School in 1952. On February 26, 1955 she was united in marriage to Elton Schuette. They raised their family in Bloomington until they relocated to their farm in Delano in 1969.
Gloria worked for the Delano High School office for 20 years and enjoyed all the contact with the students and staff. Family was very important to her. She especially enjoyed planning gatherings for family and friends. She was active in church, her monthly card club, and liked quilting, gardening, and traveling with Elton. Her outgoing nature allowed her to develop many lifelong friendships.
Gloria is survived by children Doug (Judy) Schuette, Beth (Frank) Boyle, and Lori (Steve) Checkal; grandchildren Matt Schuette, Rachel Boyle, Daniel Boyle, Jacob (Chelsia) Checkal, Luke (special friend Caitlyn), and Caleb Checkal; great grandchildren Charlotte, Naomi, and Annabelle Checkal; sisters-in-law JoAnn Eng, Elaine Schuette, Mavis Schuette, and Dorothy Schuette.
She was preceded in death by her parents Iver and Carrie Eng; husband Elton; sister Joyce Bodner; and brother Harris Eng.
Service is postponed until further notice.