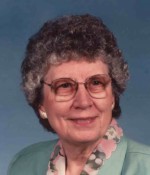 Ione Kespohl
January 3, 2020
Ione Albertina (Krause) Kespohl, age 96 of Delano, Minnesota passed away peacefully on January 3, 2020. She was born to Carl and Mabel (Wetter) Krause, on October 12th 1923 in Montrose, MN.
On June 24th 1944, Ione married Elmer Kespohl at Mt. Olive Lutheran Church and lived on his farm west of Delano until they moved to an apartment in Delano. Ione was a long time member of the Mt. Olive Women's Club and Alter Guild. She worked at Butterfield Evergreens making wreaths for 15 years.
Ione was preceded in death by her husband Elmer on August 31, 2000 and daughter Bonita J. Fisher as well as her parents Carl and Mabel Krause; brother and sister-in-law Marvin and Virginia Krause, brothers-in-law Wallace Jaunich, Roy Dalchow and Vernon Yager.
She is survived by her daughters Marlys M. Spieker and Gale M. Kespohl; grandchildren Erik and Erinn Spieker; sons-in-law Scott Fisher, Donald Spieker and Dennis Schlomka; sisters, Eldoris Jaunich, Mildred Yager, Luella Dalchow and brothers: Eldon (Leora) Krause and Robert (Donna) Krause and many nieces, nephews and friends.
Funeral Services were held on Friday at 11 a.m. at Mt. Olive Lutheran Church in Delano, Minnesota. Reception of family and friends took place for one hour prior to the services on Friday from 10 to 11 a.m. A luncheon followed the services with interment in Cassel Cemetery in Delano, Minnesota following. In lieu of flowers, memorials are preferred.