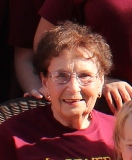 Irene A. Gardner (Jaunich)
March 27, 2019
Irene J. Gardner, age 90 of Delano, went to heaven on March 27, 2019. It was apparent the good Lord must have needed a banker to help with financial affairs in heaven.   Irene spent 50+ years at the State Bank of Delano and was a "liberated woman" long before that term became part of American discourse. She was a role model and inspired many women in an age when going into business as a woman was rare. Irene loved the banking business and all the customers and staff she got to know along the way. She was one heck of a polka dancer – in fact she and husband Kenny used to go dancing nearly every weekend. They traveled often and loved cruises that they took all over the world. She had a laugh and a spirit for fun that was hard to ignore. She was well-known and regarded in Delano and surrounding communities. Besides being a long-time employee at the State Bank of Delano, she was treasurer for Community Chest (United Way), treasurer for the Delano Chamber of Commerce, long-time member of the St. Peter's Church choir and active parish member, member of the Delano State Bank Board of Directors, and a volunteer at the local nursing home. She loved God, her faith and her church.
Irene is survived by two sons, Dan (Brenda) and Den (Sandy); her sister LaVern Bauer; grandchildren Katie (Kevin), Kim (Ron), Molly (Dan), Tom (Amy), Leslie (Stevie), Mike, and Kristin; great grandchildren Benjamin, Maya, Mary, Elizabeth, Ethan, Sophia, Gavin, Evan, and Bennett.
Irene was preceded in death by husband of 53 years, Kenny; parents Paul and Anna (Motzko) Jaunich and sister Gladys Eckes.
Mass of Christian burial was held at 11 AM on Tuesday, April 2, 2019 at St. Peter's Church, part of St. Maximillian Kolbe Parish in Delano. Visitation was Monday, 4:00-8:00 pm, with a Rosary at 3:30 PM and prayer service at 7:30 pm in Martha's Hall of St. Peter's Church. Visitation continued Tuesday, from 10:00-11:00 am prior to the Mass, also in Martha's Hall. Interment was in Calvary Cemetery in Delano.
In lieu of flowers, memorials preferred.